Am 6. März 2019 waren wir zu Gast bei dem musikalischen Live-Event »Game of Thrones – The Concert Show« am Spielort RuhrCongress Bochum.
The Best Music Of 7 Seasons »Game of Thrones«
In diesem einzigartigen Konzert präsentieren rund 100 mitwirkende Orchestermusiker, Chorsänger und Solisten der renommierten London Festival Symphonics unter Leitung des Dirigenten Steve Ellery ausgewählte Soundtrack-Highlights aus den bisher gesendeten sieben Staffeln der weltberühmten Kult-Fantasy-Serie »Game of Thrones«.
"Lieder von Feuer und Eis"
Die sieben Königslande von Westeros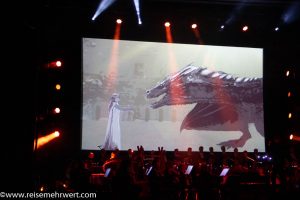 Begleitend zum jeweiligen Soundtrack werden auf einer riesigen Leinwand visuelle Effekte, Illustrationen und Animationen imposant in Szene gesetzt. Auf diese Weise entstehen auf der Bühne die sieben Königslande von Westeros und das Publikum kann mit Augen und Ohren die fantastischen Geschichten rund um die Helden & Heldinnen und ihren erbitterten Kampf um den ›eisernen Thron‹ Revue passieren lassen.

Ein absolutes Muss für jeden echten »Game of Thrones« Fan
Unsere Bewertung: Das symphonische Klangerlebnis
GAME OF THRONES – The Concert Show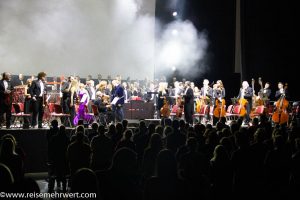 lässt das Herz eines jeden echten Fans dieser hochdekorierten Fantasy-Serie höherschlagen und verkürzt die Wartezeit auf die heiß ersehnte 8. finale, gleichzeitig aber auch leider letzte Staffel.
Das Orchesterensemble »GAME OF THRONES – The Concert Show« tourt zur Zeit quer durch Deutschland.